Physical Installation Instructions for PCIe* NVMe* U.2 and Add-In Card Solid State Drives
See the instructions below for how to properly install an SSD (Add-in Card or U.2 2.5 inch form factor) that uses the PCIe* NVMe* interface.
For proper handling and installation instructions for an M.2 form factor drive, please see the Proper Handling Techniques and Precautions for Your M.2 Device.
The PCIe* NVMe* interface requires specific motherboard or system vendor support, confirm with your vendor before proceeding.
Before you begin
Caution


Disconnect/unplug the systems power supply from its AC power source before you connect cables, disconnect cables, install, or remove any board components. If a laptop is being used, remove the battery as well if possible per your vendors instructions

Without first disconnecting the power supply, you risk personal injury or equipment damage.

Some circuitry on the desktop board can operate even if the front panel power switch is off.

Electrostatic discharge (ESD) can damage desktop board components. Install the board at an ESD-controlled workstation. If an ESD-controlled workstation is unavailable, wear an anti-static wrist strap or touch the surface of the anti-static package before handling the board.
Prepare
Your board may have multiple PCIe* slots. The PCIe SSD needs a PCI Express* (PCIe) x4 or higher connector. Best performance is with a PCIe 3.0 connector.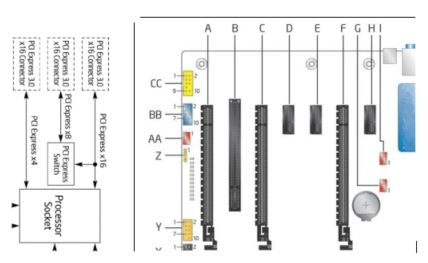 In our example:
Install the PCIe SSD in connector A, B, C, or F.
For best performance, we recommend the connector closest to the processor/CPU (F).
If you encounter detection issues, the connector farthest from the CPU (A) may be more successful.
If you're using a third-party (add-in card) video card, place it in the PCIe connector closest to CPU (F).
Installation steps for an SSD add-in card form factor drive
Find the proper PCIe 3.0 connector. Remove the screw and shield from your chassis.
Attach the SSD to the proper size I/O shield for your chassis.
Insert the SSD.
Replace the chassis screw in the shield to hold the SSD in place.
See your chassis manual for more detailed instructions.
Installation steps for the SSD 2.5-inch U.2 form factor drive
Mount the SSD in the chassis using screws to hold the SSD securely.
Connect the cable to the U.2 SSD connector (SFF 8639).
Two options for methods to connect to the motherboard are defined and shown below. Use the method that is supported by your system:
Connect SATA power to the connector on the cable.
See your chassis manual for more detailed instructions.
| | |
| --- | --- |
| M.2 | |
| SFF 8643 | |
Note

Make sure the electrical connection to the mini-SAS HD/M.2 connector is PCIe, not SAS, or SATA. NVMe SSDs only support PCI Express signals.

The SFF 8643 connector is also called a mini-SAS HD connector.

The SFF 8639 may also be called a SATA-express* drive connector with more signals.